I was born in May 1973 in the small, lovely, and quiet spa town of Bad Gleichenberg in the south-eastern part of Styria. It was in this beautiful countryside where I completed my primary and secondary school years. Afterward, I choose a commercial-business education up to the Master of Business Administration. Additionally, I graduated from the Academy of Applied Photography.
Professionally, I worked in project management in the areas of warehouse and logistics optimization for various companies and industries before I turned my focus to working with and for the International Development Cooperation in Africa and South Pacific.
From an early age, I felt the urge to get to know other countries and people and their ways of life. This motivation led me first through Austria, countries of the European Continent, and eventually further and further afield. A twist of fate enabled me to make my first trip to the Sahara desert in 1999. It took me through Tunisia to Libya and parts of Chad.
A few years later and more matured by experiences (gained through further journeys through West and North African countries), I got the opportunity (in 2005) to work in the semi-arid northwestern part of Kenya, more precisely in Lodwar with the local partner, the Diocese of Lodwar. The field of work covered organizational development and social entrepreneurship. After more than six years of working together, the time had come to say goodbye to many friends and start another assignment. In 2013, my family and I left Lodwar for Buka/Bougainville/Papua New Guinea, where I was asked to work for the Diocese of Bougainville in the areas of financial management and social entrepreneurship. Due to the lack of schooling opportunities, it was with sad hearts that we had to leave this lovely island, its beautiful people, and many friends. The call was coming from Nairobi, Kenya where we had our duty station from 2017 to 2021. During his time, I worked with the Salesians of Don Bosco as Program Manager and built up the continental network "DON BOSCO Tech Africa (DBTA)" which is the umbrella organization of 105 Salesian Technical and Vocational Education and Training (TVET) Centres in 34 countries in sub-Saharan Africa. After four years of intensive intercontinental networking and organizational development for DBTA, I am now applying my skills and knowledge to the Evangelical Lutheran Church of Papua New Guinea as an advisor for financial and organizational development.
I was born 1982 in Western Kenya, grew up in Lodwar, I had to take responsibilities already at the age of 16 during my school education when my mother died first and my father later on. I had to take care of my niece and my nephew.
At this time I was self-employed (like many others) and sold clothes in Lodwar. After this I was the Office Manager for "terre-des-hommes" (an NGO from the Netherlands) until I got pregnant with Marie-Therese Aisha. Later on I volunteered for the Diocese of Lodwar in the area of book keeping and office management.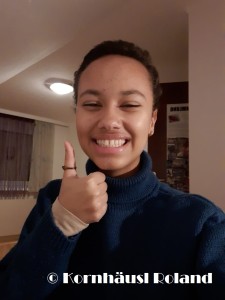 My name is Marie-Therèse Aisha Kornhäusl. I was born on the 22nd of January 2007 in Nairobi/Kenya.
My favorite colors are blue, yellow, forest green and my favorite animal is the blue whale. I am a big fan of Harry Potter. My Patronus is a dapple-grey stallion and I'm a Hufflepuff. My favourite characters are Luna Lovegood, Sirius Black, and George Weasley. I love vintage clothing and I want to be an Astronaut when I grow up. That's why I'm currently studying mechanical engineering with a focus on environmental technology at the Higher Technical Institute (HTL) in Weiz, Austria. I also love to draw and paint and my favorite subject is Maths even though it's not the easiest one.
I love my family and friends all over the world (in Kenya, Bougainville, Papua New Guinea, Austria, etc.) and would love to make new ones all over the world in every place I am!
I have two bedrooms available! You're welcome to come anytime!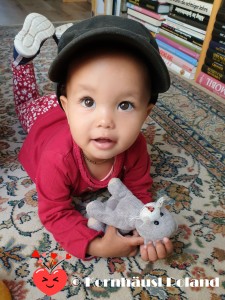 … my name is Marie-Sophie Habiba Luna Kornhaeusl. You are probably wondering how and why I have so many names. Marie-Sophie is the name selected by "all", Habiba was the name from my mom's mom and Luna was chosen by Marie-Therese. I am the youngest member of the famous Kornhaeusl-Family.
I was born on the 13th of March 2020, had 3.5 kilograms and was 51 cm tall once I came to this world. I am a little bit of the bawler … but only if something does not go along my way. Otherwise I do what I am supposed to do: laugh, cry, eat and poop.
I am excited to have such a lovely family. So far she is nice to me. Sometimes I am get a bit stressed with the many kisses I receive from her. But I guess I have to get used to it. What do you expect when you're sooooooooo cute like me?